Overcomer
Available on Digital, Blu-ray™ & DVD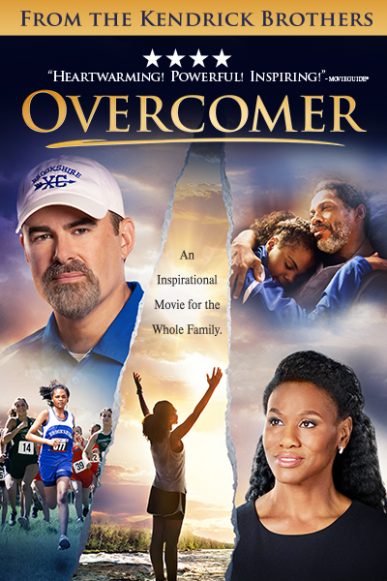 From the creators of the #1 box-office hit, WAR ROOM, life changes overnight for coach John Harrison (Alex Kendrick) after he loses his basketball team and is challenged by the school's principal, Olivia (Priscilla Shirer), to coach a new sport he doesn't know or like. As John questions his own worth, he dares to help the least likely runner take on the biggest race of the year. Filled with a powerful mix of faith, humor, and heart, this inspirational story will have you on the edge of your seat.
Special Features
BLU-RAY EXCLUSIVE SPECIAL FEATURES:
The Heart of Overcomer
Creating the Opening Drone Shot
Working with the Kendricks
Post-Production Behind-the-Scenes: Editing, Scoring, Coloring, and Sound Design
"Enough" (Lyric Video) Featuring Koryn Hawthorne
Don't Mess with the Editors
ALSO INCLUDES:
The Making of Overcomer
Bloopers
10 Minutes of Additional Scenes
Commentary with Director Alex Kendrick and Producer Stephen Kendrick
Overcomer in 60 Seconds
The Theme of Identity
The Power of Forgiveness
"Overcomer" (Lip Sync Music Video) Featuring Mandisa AND MORE!
WRITERS
Alex Kendrick and Stephen Kendrick
DIRECTOR
Alex Kendrick
PRODUCER
Stephen Kendrick, Aaron Burns and Justin Tolley
EXECUTIVE PRODUCER
Shannon Kendrick
STARRING
Alex Kendrick, Shari Rigby, Priscilla Shirer, Cameron Arnett, Denise Armstrong, and introducing Aryn Wright-Thompson




SOME THEMATIC ELEMENTS